Other Case Studies
uDig Training Session – International Potato Center, Peru
The International Potato Center (CIP) seeks to reduce poverty and achieve food security on a sustained basis in developing countries through scientific research and related activities on potato, sweet potato, and other root and tuber crops and on the improved management of natural resources in the Andes and other mountain areas. The mission of CIP includes the maintenance of the international genebank for potatoes and sweet potatoes as held in-trust from FAO (Food and Agricultural Organization).
As part of its mission, CIP developed a data curation tool, DIVA-GIS, to transfer descriptive location data into geo-coded decimal data sets, and carry out biodiversity analysis and crop prediction based on climate data.
The first version of DIVA-GIS was built in Delphi, using a proprietary GIS engine with a favorable license. CIP decided to move this application to open source to remove the dependency of a proprietary license in anticipation. At the same time, CIP decided to overhaul the application architecture, to move to a cross-platform framework, and to open up the source code for peer-review.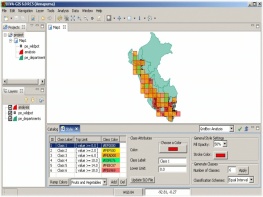 After comparison with several other potential candidates in Java CIP finally adopted uDig as a spatial framework. uDig was the choice because:
it is built on both an established GIS independent framework (Eclipse RCP);
it includes a well-tested GIS library; and,
it has a very favorable open source licensing model.
CIP wanted to get started with uDig as quickly as possible, so they contracted with Refractions to deliver a week-long training course that covered the essentials for new uDig developers:
The Eclipse RCP plug-in system, and building applications based on Eclipse;
The uDig plug-ins, and what their important extension points are;
The Geotools library, what components are available and how to build them; and,
How to integrate and build all these components into a working application.
Refractions delivered the course on-site in Lima, Peru, to a class that included local developers from CIP, and a wide range of other developers from the United Nations Food and Agriculture Organization (FAO) interested in moving into RCP/uDig development for their own purposes.