Other Case Studies
OGC Web Services, Phase 3 – Open Geospatial Consortium

The Open Geospatial Consortium is an international industry consortium of over 300 companies, government agencies and universities participating in a consensus process to develop publicly available interface specifications. OpenGIS®® Specifications support interoperable solutions that "geo-enable" the Web, wireless and location-based services, and mainstream IT. The specifications empower technology developers to make complex spatial information and services accessible and useful with all kinds of applications.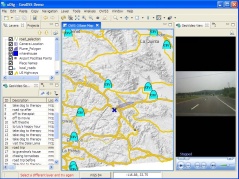 As part of the standards development process, the OGC hosts annual interoperability projects, sponsored by major governments and corporations from around the world. In 2005, the "OGC Web Services, Phase 3" (OWS-3) project brought together dozens of companies to develop new standards for interoperability.
Refractions was selected by the OGC to provide the "Geographic Decision Support System" (GeoDSS) component of the project, using our open source uDig open source application framework. The GeoDSS component was the piece of software that would be highly visible for OWS-3 – many of the other components were server-based and would be visible only through the mediation of the GeoDSS client.
The Refractions GeoDSS client supported to following aspects of OWS-3:
Development and demonstrating a GeoVideo client/server pairing (using a Geovideo server developed by Intergraph).
Demonstration of catalogue search.
Demonstration of Web Feature Service client.
Demonstration of Web Map Server client.
The Refractions team delivered a uDig GeoDSS system to the OWS-3 demonstration in Washington DC at the end of the project, as well as Mapserver-based data publishing services that were extensively used in the final demonstration.