Other Case Studies
Emergency Management Information Application (EMIA) – Regional District of Fraser-Fort George
Project Background
The Regional District Fraser-Fort George (RDFFG) encompasses a vast geographical extent with over 100,000 residents residing in 52,000 square kilometers. They are currently responsible for providing 911 services and supporting disaster management. Due to the wide geographical extent and rural nature of the area, several challenges are presented when supporting emergency management operations. Some of these difficulties include: addresses not geocoding properly against roads data; access point may differ from the addressed point; unincorporated communities may have different names and assumed boundaries; an address may not be known if the call is from a cell phone or VOIP; and paper maps, which are still used widely in dispatch vehicles in rural areas, may not be current. The result of all of these circumstances is that emergency responders may spend precious time searching for an address location.
The Solution
To make it technically feasible for the RDFFG and its partners to expand their primary role of providing emergency 911 services, a web application has been developed to support the compilation, quality assurance, presentation and analysis of geospatial data. The Emergency Management Information Application (EMIA) will allow these jurisdictions to include emergency and disaster planning and management as part of their business operations.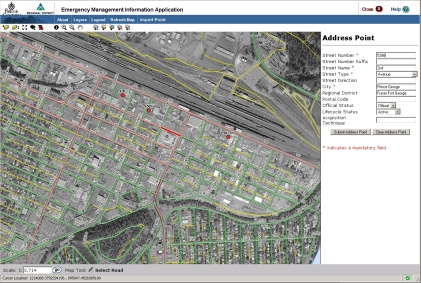 The spatial data essential for the success of the EMIA includes address points, a comprehensive and accurate road network, sites data representing critical infrastructure as well as access to other selected third-party CGDI systems. The application's functionality includes: the ability to show roads, cadastral data, and other context layers; defined and stored areas of interest; new addresses loaded, delineated, moved and attributes modified; suggested changes to road geometry and attributes; attributes of site types entered and modified; and automated and manual quality assurance treatments.
The Result
The architecture, using OGC standards, is flexible in allowing staff to edit, update, perform quality assurance and validate information pertaining to address points, roads and specific sites. Using OGC standards will also allow for greater extensibility, and simplify collaboration with other systems.
The technology chosen integrates with the RDFFG infrastructure, using ArcSDE as the backend database, and ArcMap to view and edit points directly in ArcSDE as necessary.
The application will be extendable to incorporate future partners of the RDGGD including the Cariboo, the Bulkley-Nechako and Kitimat-Stikine Regional Districts. A seamless exchange and sharing of geospatial data between various levels of government is also possible. These partners are the Provincial Branch of Base Mapping and Geomatic Services (BMGS), the Integrated Cadastre Information Society (ICIS) and the Canadian Geospatial Data Infrastructure (CGDI) to name a few.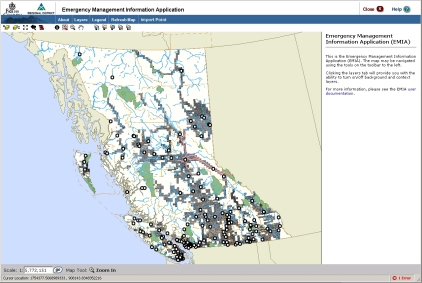 The overall benefits include the ability to provide stronger support to emergency 911 and disaster management, the capacity to partner with local government to enable fast updating of roads and sites data and support for public safety.