Other Case Studies
COIN Pacific – BC Ministry of Sustainable Resource Management
The British Columbia Ministry of Sustainable Resource Management (MSRM) wanted to bring together information from numerous aquatic resource agencies into a single information portal to support decision makers. This "Cooperative Ocean Information Network", or "COINPacific", needed to access information from the federal fisheries ministry, from US information sources like NASA and NOAA, and from the provincial data warehouse.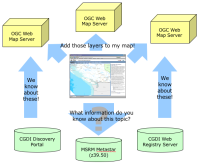 MSRM settled on an architecture based on OpenGIS web services and selected Refractions Research to gather requirements and use cases, design the system, and provide implementation and delivery.
Refractions worked with COINPacific stakeholders to gather use cases and developed a design which made use of a mix best-of-breed components and new functionality:
UMN Mapserver as an OpenGIS-compliant web map server
OpenIMF from Moximedia as an OpenGIS web map client
Java-based metadata client code to extract information from provincial and federal metadata servers
By connecting the web-mapping application to the metadata services already offered by the provincial and federal governments, Refractions made the application "extensible-by-design" – whenever new information is added to the metadata servers, it becomes available to the COINPacific portal automatically.
Refractions implemented the portal, publishing new data provincial data layers using Mapserver; customizing the interface in OpenIMF to allow client-side styling, reprojection and layer manipulation; and adding a new metadata search capability to the IMF infrastructure.
The final COINPacific implementation was delivered to MSRM under-budget and on time.