Other Case Studies
Consultative Boundaries Database Viewer – BC Integrated Land Management Bureau
Project Background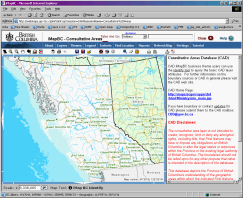 The province of British Columbia is the only jurisdiction in Canada where treaties with the aboriginal inhabitants were never negotiated at the time of European settlements. The legal status of the much of the province is governed by various court judgements that require the government to consult with the local aboriginal organizations before permitting changes to the landscape – such as logging, water diversions, etc.
This "fiduciary obligation to consult" would be relatively manageable, except that there are over 200 different aboriginal organizations in the province, and the areas they must be consulted on are ill-defined. Furthermore, the aboriginal organizations often wish to keep the precise boundaries of their consultation areas private.
Refractions' Solution
Refractions worked together with Bolster Consulting to provide a solution that:
made the information about what organization to consult with easily accessible;
made the information about who in the organization to contact easily available;
allowed location-based queries to determine the exact organizations to contact;
protected the privacy of aboriginal organizations and the confidentiality of their data.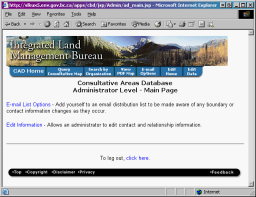 Bolster Consulting managed the gathering of data from the aboriginal organizations on boundaries for consultation, and appropriate contact information for consulting. Refractions prepared a British Columbia government standard application and data model to publish the information to internal government users:
An Oracle data model was prepared in Designer;
An ArcIMS service was created and configured, with custom alterations to the ArcXML;
An IMF application was set-up to use the ArcIMS layers;
A custom query interface was built;
A management interface for updating the information was built.
The "Consultative Boundaries Database" has been online and operational for several years now, and receives continuous use by line Ministry staff to determine points of contact for various applications and land use permits.